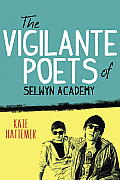 The Vigilante Poets of Selwyn Academy
By Kate Hattemer
Witty, sarcastic Ethan and his three friends decide to take down the reality TV show, For Art's Sake that is being filmed at their high school, the esteemed Selwyn Arts Academy, where each student is more talented than the next. While studying Ezra Pound in English class, the friends are inspired to write a vigilante long poem and distribute it to the student body, detailing the evils of For Art's Sake. But then Luke—the creative force behind the poem and leader of the anti-show movement—becomes a contestant on the nefarious show. It's up to Ethan, his two remaining best friends, and a heroic gerbil named Baconnaise to save their school. Along the way, they'll discover a web of secrets and corruption involving the principal, vice principal, and even their favorite teacher. (Summary from Goodreads)
Why I picked it up:
Reality shows…..how "real" are they?   And TV talent competitions…how fair are they? Admittedly these are questions I have asked myself as I have joined their legions of viewers from time to time. Mix them with components of the show Glee and I believed Kate Hattemer had written a book that could be a hit.
 Why I finished it:
The narrator (Ethan Andrezejczak) stole my heart. His dedicated friendship, devotion to a sickly (but talented!) gerbil and loving patience with his whacky 4-year-old triplet sisters kept the plot moving with comedy and heart.  As one reviewer put it, this is a "hilarious story of friendship and poetry".
 I'd give it to:  
Anyone (grade 9 and up) who loves a uniquely written comedy.
I'd give it:  4  Stars
Reviewed by Connie (Parr Library)