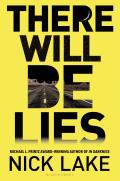 There Will Be Lies
By Nick Lake
In four hours, Shelby Jane Cooper will be struck by a car. Shortly after, she and her mother will leave the hospital and set out on a winding journey toward the Grand Canyon. All Shelby knows is that they're running from dangers only her mother understands. And the further they travel, the more Shelby questions everything about her past—and her current reality. Forced to take advantage of the kindness of unsuspecting travelers, Shelby grapples with what's real, what isn't, and who she can trust . . . if anybody. (Summary from Goodreads)
Why I picked it up:
I read (and enjoyed) Nick Lake's previous book Hostage Three.  It was an excellent thriller and I was looking forward to reading more of the same.
 Why I finished it:
This is a real page turner but definitely not in the same way as Hostage Three.  Shelby unexpectedly finds herself in two worlds: "the Dreaming" as well as the "real world". Or is it?  I was totally captivated by the plot as it moved in and out of two intertwining storylines. Sometimes I found it to be a bit perplexing but, like Shelby, I wanted to learn what lies she had been told and why.  Clues are interspersed throughout the narrative keeping the savvy reader on edge as chapters flow so smoothly into each other that it is almost impossible to put down.  There isn't much else I can say as it would be very easy to reveal a "spoiler".  You'll have to read it for yourself to become part of this "strange and beautiful story".
 I'd give it to:
I'd recommend it to readers grade 9 and up who enjoy convoluted plotlines with many unexpected twists and turns.
I'd give it:
 Reviewed by: Connie (Parr Library)