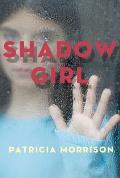 (Excerpt from book)  "Shadows can't exist without light.  They are suppose to be together.  She had to figure out why she was in this terrible world, what had made her a shadow."
If you enjoy an emotional book then Shadow Girl is the one for you.  Jules is 11 years old and feels as if there is no light in her life.  An alcoholic father who rarely holds down a job and rarely finds time to come home.  An absentee mother and a young girl who desperately tries to fit in but finds herself hungry, wearing dirty clothes, frustrated and lonely.  She copes with life by imaging greater times and having expectations of others which rarely come true.  The foster system finally takes control of her life but once again her hopes are dashed as this family treats her as a shadow; she doesn't exist.  Happiness does catch up with her as a store clerk in a toy department store becomes her friend.
Why I picked it up:  I was curious why such a young girl felt like such a shadow in her life.
Why I finished it:  It was kind of a mystery to me and I had to see what her future looked like.  I knew it had to get better.
I'd give it to:  Someone who enjoys reading an emotional book.
I'd give it:

Reviewed by: Beverly (Davis Library)